Hey folks. I've been pretty much busy with adjusting to my new work-life schedule for the last couple of weeks after getting the coveted first full time job in Oz! It's been such an amazing and eye-opening 3 weeks, learning new skills and gaining work experience, especially since I've not actually worked or lived outside Singapore for the last 28 years.
To respond to readers and friends (who have been asking "How's work??") it's probably timely to pen down my initial observations on working in Australia.
Disclaimer! Most of the observations listed are from my personal experiences and based on conversations with Aussie colleagues, friends and other migrants. Depending on your industry/company, it may not apply to you. In addition, do note
that I'm working in a different industry now so if you intend to be a teacher in Oz, many of the observations may not apply to you directly.
#1. People value work-life balance.
My colleagues (generally) come to work and leave on time. Because of confidentiality issues, no one brings any work home at all. No one checks or sends emails after work hours. No one works during lunchtime and few eat at their desk. God forbid, but no one needs to feel bad about stepping out of the office before the boss leaves! (Especially since the boss leaves on time, too!!)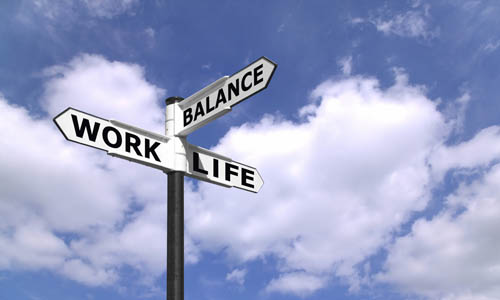 Finally found the right path after 4 long years.
#2. People value other people over work.
"Work is important but people are more important." Some of my bosses used to say this back when I was in SG but I feel that in Australia, people genuinely mean it. That's because they don't (just) say it, they show it. There is no emotional/psychological 'penalty' on employees on sick, carer or maternity leave. When the going gets tough and targets cannot be achieved in time, work does not suddenly get 'delegated'. All overtime work is optional. Colleagues who have not spoken to you before are interested in what makes you tick rather than whether you can cover their duties.
#3. People work smarter, not harder.
Point #1 may give you the false impression that Australians are lazy. Truthfully, they aren't. They just know when to work and when to stop. While they are working, they generally work smart too. Ergonomic office designs, using technology to maximize efficiency and having occasional group-led stretching really improves worker health and efficiency. During lunchtime, most of the Aussie colleagues go for their daily stroll in the nearby park or take a powernap on the grass! I kid you not.
I've yet to try it, but I will!
#4. Overtime 'Compensation' - What's that?
Overtime is paid???!!! Got the shock of my life 2 days ago when the team manager asked if I was keen to do OT today (Sat). Apparently lunch is provided, work hours are from 9 to 3 and the weekend work hours are paid 1.5 - 2 times the weekday hourly rate!
For all my non-Singaporean readers, I will point out the fact that a large proportion of employees earning a fixed monthly salary in SG are typically not entitled to OT compensation. Apparently, it is 'understood' that one is paid to do a certain amount of work then no additional compensation will be given for work that is 'supposed to be done anyway'. Never mind when additional work is given. Never mind that the work may be assigned last minute. No wonder Singapore has such a high percentage of unhappy workers. Money doesn't buy happiness but it sure sucks to be taken for granted most of the time.
#5. Rostered Day Off (RDO) - Huh?
A question for readers who have been working in Oz for a long time... Is having RDOs a typical practice? Apparently, some companies (including the one I work for) ask that each employee works an extra 45 mins a day so that they can get an extra day off each month (on top of annual leave and PH). To ensure you enjoy your day off, it is also usually scheduled on a Friday for a guaranteed long weekend once a month?! Talk about good welfare!!
#6. Trust - it works both ways
On my second day of work, I innocently queried a random colleague on how I should go about reporting daily attendance. She must have thought I was from outer space. Apparently the company never had a need to monitor punctuality. There is a shared calendar where HR updates all approved leave so everyone knows exactly who isn't around for the day. In return, I have observed that people are rarely late. (though 60% of my colleagues arrive 2-3 minutes before the clock strikes 9! Talk about precision.) The manager sends out an additional email on days where colleagues take emergency leave/report at a later time.
#7. Taking Sick Leave aka 'Sickie'
To add on to my point about trust, employees are allowed to take sick leave with no documentation for up to 3 consecutive days. Documentations may be required only if the company deems that an employee has taken too many days of sick leave in a year.
No need to 'chao keng' / pretend to be sick in Oz!
#8. Emails are short, sweet and polite. Meetings, too!
The longest email I've received so far had about 3 paragraphs of content. Typical emails are 2-3 sentences and straight to the point. The longest meeting I've had so far is 15 minutes. No one took minutes/notes, everyone who had something to say gave their input and the session was conducted using a small whiteboard. Apparently, the longest meetings are no more than 30 minutes and meetings are held no more than once a fortnight (where I work).
It just makes sense, right? Fewer/shorter meetings and fewer/shorter emails = more time to do actual work. 4 years working in Singapore and I can conclude with certainty that Singaporeans are way behind in this aspect.
Asian logic: More meetings are good! Longer meetings are better!!




#9. Salary and Benefits are NOT a secret!
Most policies to do with leave, benefits and especially salary are considered extremely confidential back in SG when I was working in HR. To my utter amazement, such policies in Oz are discussed between the employer and union and the details of the agreement are readily available online. Click on this link to view a list of actual union agreements for some TAFE institutes. Most of them include the salary ranges and detailed work rights and entitlements, to ensure fairness to employees and for benchmarking purposes.
#10. Hierarchy and Salutations, or the lack thereof
This is something probably not that common in Oz I would think, but definitely one aspect I am extremely thankful for at my current workplace. Our department has just one manager, with the rest of the department (all 30 of us) holding the same position. There are no multiple layers of middle managers, no complex organizational charts and no troublesome job titles to deal with.
Everyone calls everyone else by first name regardless of age or position (no more calling others Sir / Madam / Mrs so-and-so). It is just such an indescribable relief not to bother about your lady colleagues'/bosses' salutations any more. People in the HR line in Asia will know exactly what I'm talking about. I'm sick and tired of remembering that this manager prefers to be known as Mrs Lee instead of Mdm Wong while that director wants to be known as Ms Chia, not Miss Chia because she doesn't like to be reminded that she's not married. Oh good grief. That was quite a challenge when I had to remember the correct salutations for all 150++ lady teachers in the school.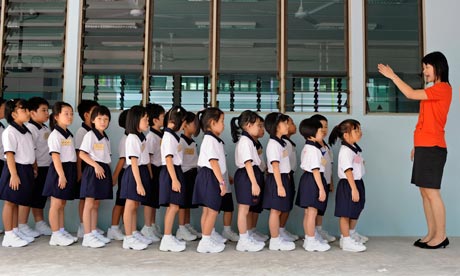 Good morning Mrs Tan... or is it Mdm Ng... wait, it could be Mrs Tan-Ng...
Come what may, I will always be thankful for this awesome opportunity to work and live in Melbourne. I recall just half a year ago, many well-meaning, 'all-wise' friends and relatives have cautioned against leaving the iron-rice bowl ie teaching job in Singapore, telling me I will regret it, there is too much uncertainty and that the grass always seems greener on the other side. Guess what? I am now on the other side and it IS greener here. I am in a honeymoon phase now, you say? Perhaps, I will admit. Only time will tell. But it is hard to argue against work-life balance, being compensated fairly for the work I do, being treated with respect and most importantly, being trusted and given the benefit of the doubt. Of course I'm not deluded and working life here ISN'T PERFECT, but sure is as close to being perfect as I could ever have imagined.
Comments, anyone? Would really love to hear from local Aussies or seasoned migrants in the workforce.
- A